Does Your Bridge Need Repairs or Replacement?
Many bridges only designed for a 50-year lifespan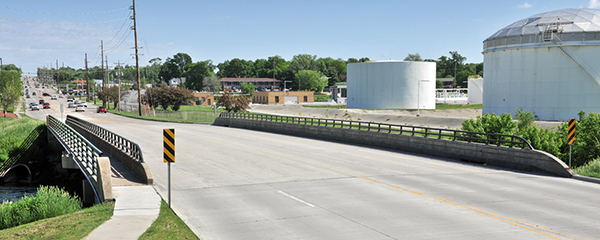 According to the ASCE 2017 Infrastructure Report Card, the U.S. has 614,387 bridges, almost four in 10 of which are 50 years or older. 56,007 — 9.1% — of the nation's bridges were structurally deficient in 2016, and on average there were 188 million trips across a structurally deficient bridge each day. With a limited amount of federal funding to help pay for replacement or repairs, bridge owners – cities, counties and states – need to have a plan in place and their share of the funding ready when their bridge project is chosen.
A number of things contribute to bridge damage:
Traffic volumes continue to increase with population growth
Some rural bridges were not designed for the size and weight of modern farm equipment
Erosion of foundations from the streams or rivers that the bridge spans
Many older bridges were designed for a 50-year lifespan and are approaching that lifespan or have already exceeded it. In a study by The American Road and Transportation Builders Association (ARTBA) released in February, Iowa led the nation with the most structurally deficient bridges with 4,968, more than double the fifth-place state (Source: USA Today).
How do you know if your bridge is in need of repairs? Is it better to repair your bridge or replace it? The answers to these questions start with a bridge inspection.
Bridge Problems to Look For
A certified bridge inspector follows a checklist of problems to look for, with forms for each area of the bridge, using the Federal Highway Administration (FHWA) Bridge Inspector's Reference Manual. Potential problems include:
Cracks and spalls in the concrete
Areas of settlement around the foundation
Steel that is corroding or rusting
Bolts that have snapped off or are loose
Damage to underside of beams from trucks traveling underneath
Soil around foundation eroding or blocking the flow of the stream
There's Limited Local and Federal Funds. Now What?
Bridge owners have the challenge of prioritizing bridge repairs and replacements with limited local and federal funds available for the amount of bridge work needed. Federal funds are distributed yearly to states to hand out, with a limit of one bridge per city or county per year and a cap of $1 million per bridge in Iowa.
Bridge owners, if picked, are then typically responsible for 20% of the project cost. Deadlines for submitting bridge projects for funding in IA and IL are typically in October.
States rank bridge projects based on a priority worksheet, which includes:
The condition of the bridge, with those most in need of repairs given higher priority
Volume of vehicles the bridge handles
Whether the bridge is up to modern standards
The U.S. Department of Transportation also started a Transportation Investment Generating Economic Recovery (TIGER) program that provides grant funds for state and local bridge owners. $500 million in grants is available through September 30, 2020, on a competitive basis for projects that will have a significant impact on a metro area or region.
Speed Up the Process and Get Funding Help
Bridge owners can speed up the process:
Work with a certified bridge inspector and engineering firm who can determine scope of repairs and draw up repair plans. Having a scope of repairs ready will prepare you for when your bridge is chosen to receive federal funds.
Prioritize which bridge projects are most vital and help you file for the federal funding.
Shive-Hattery was able to help the City of Camanche, Iowa, obtain funding to replace a nearly 100-year-old bridge that also required wetland mitigation and 700 feet of approach roadway