Healthcare Facilities Focusing More on "Wellness" than "Illness"
Key takeaways from the 2016 Healthcare Facilities Symposium in Orlando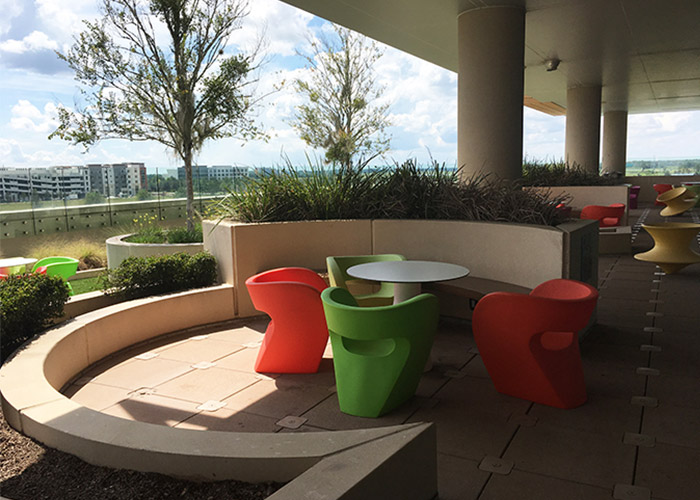 People have an emotional response to their environment. When you think about being in a typical hospital, it's not a place you want to have to go, much less visit.
At the 2016 Healthcare Facilities Symposium in Orlando, the seminar topics involved finding ways to make healthcare facilities more appealing to the public. Providing a welcoming atmosphere, incorporating nature, and offering other community services are all tools healthcare facilities are using to change the perception of an "institution" to more of a "wellness center."
Some key takeaways from the conference were:
1) Integrating healthcare facilities into communities
The idea behind this is to give the public a reason to interface with the hospital without being sick. Examples are:
Housing a great restaurant or café that not only gives staff access to good food but draws others in as well.
Consider walkability, public transportation, proximity to local services and food, and engage the surrounding neighborhoods for feedback on future hospital improvements or expansion projects. Can there be beneficial services incorporated?
Acquire or develop multi-family housing options that support healthcare facilities.
Reserving event space, such as conference rooms or atrium areas. An example facility held regular farmers markets in its parking lot. Other hospitals hold educational workshops on health topics such as healthy eating.
One hospital had sculptures in a public plaza outside its building that became so iconic, it was a stop for tour groups to take pictures at. This public space has also become a walkable destination for surrounding office buildings where workers order at the café and eat lunch on the patio.
By designing hospitals into the community fabric, it makes the facility more attractive and adds value for people, with the hope that they will then make it their hospital of choice for service.
2) Create a spa-like environment
Integrating nature and art. Using a color palette with a calming feel to it. Incorporating natural light. Big windows with views to the outside. Images of plant life on the walls. All of these design elements are used in spa settings because they create a sense of serenity that makes people feel good and promotes relaxation.
By incorporating these same concepts into hospital design, you can help people heal faster. "Biophilic" design has been known to lower blood pressure and lessen people's feelings of pain, among other benefits, which helps speed patients' recovery and shorten their hospital stay.
3) Welcoming entrance
First impressions are huge. What do you want your hospital to say to people when they enter? Is the wayfinding clearly expressed? Is it easy to understand? Is it a place you want to come back to?
Some examples given of ways hospitals made visitors feel welcome included:
In the waiting rooms, offering a choice of seating. Tables, single chairs, and community seating areas for groups offer a range to fit all needs and wants.
Locating registration in direct sight lines from the elevator.
Also in waiting rooms, climbable sculptures gave kids something to do while waiting and made the parents feel more welcome.
At one hospital, every floor was assigned a color. From the time you park your vehicle, you can follow a colored path that takes you to the floor you need. Once on that floor, the décor integrates that color so that it's clearly denoted.
4) Access to greenspace integral to the design
Studies in Scientific American show that three to five minutes spent looking at areas dominated by trees, flowers or water can reduce tension and pain and induce relaxation. Benefits of outdoor greenspaces included:
Offered positive distraction for patients from pain or treatments
Improved overall sense of well-being and relieved symptoms
Patients had shorter hospital stays, which meant less cost to them and the hospital
By putting in play equipment, kids wanted to come back
Patients could do therapy programs out in the garden spaces
Staff had a place to unwind and rejuvenate
5) Technology and the future of telehealth
Being able to video conference with your doctor is a service that's going to keep growing in popularity. Among others, it helps parents who don't want to bring children to the hospital; the elderly or homebound, who may have a hard time making the trip; and mental health patients, who sometimes need to speak with multiple doctors to discuss care. By using teleconferencing, patients can manage chronic conditions, or even gain access to specialist care that's not offered close to home, without added expense and travel. Designing healthcare facilities for the future should promote flexible spaces that can change with future needs.
This new movement in healthcare design reflects hospitals' goal to become more than just a place to treat sick people. By improving people's experiences and quality of life, hospitals can become their communities' "wellness centers" dedicated to creating healthy people.