More Ways to Save with Solar in Illinois
Illinois solar incentives and funding mechanisms...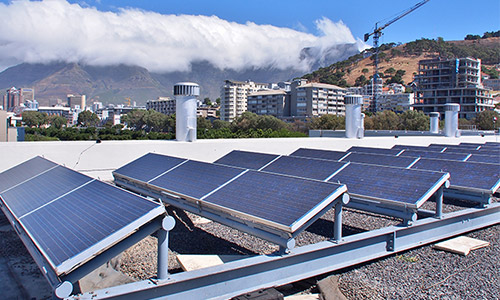 Nearly a year ago, Illinois took steps to increase the installation of solar energy systems statewide. By implementing the Future Energy Jobs Act (Senate Bill 2184), Illinois strengthened its existing Renewable Portfolio Standard and calls for the installation of nearly 2,700 megawatts of solar by 2030 (up from the current level of 75 megawatts).
By providing $180 million per year in funding (growing up to $220 million per year), the goal is to encourage more Illinois businesses to invest in renewable energy, including solar. By 2025, the Future Energy Jobs Act calls for 25% of the state's energy sales to be renewable.
Paying for Solar Projects
To make this feasible, there are several incentives available to help organizations of all kinds – from hospitals and schools to athletic complexes and financial institutions – achieve a better, faster return on investment when installing new solar panels:
Federal solar tax credit
Utility rebates
Solar renewable energy credits
Power purchase agreements
These funding mechanisms can help businesses see a full payback on solar in three to five years instead of the 20 to 25 years that has been typical in the past.
Federal Tax Credits
The federal solar tax credit, which has been available since 2005 as part of the Energy Policy Act, allows you to deduct 30% of total solar installation costs on your federal taxes – as long as you own the system (vs. leasing it). There is no cap on this tax credit, and it's set to remain in place until 2019.
A simple example: If your solar project costs $30,000 after installation, then you are eligible for a $9,000 federal solar tax credit that can be applied to your federal tax liability.
Utility Rebates
Rebates from your local utility may or may not be available, depending on your provider. In Illinois, Ameren and ComEd both offer rebates of up to $0.25 per watt for solar renewable energy. These utility rebates can be combined with the federal solar tax credit.
Solar Renewable Energy Credits
Originally created as part of the Renewable Portfolio Standard, utilities must obtain a certain number of renewable energy certificates (RECs) to prove that they're producing renewable energy – or paying someone who is.
If your business is located in an area that offers RECs – such as Illinois – then you can take advantage of this incentive. In some states, a certain percentage of renewable energy must come from solar (called a "solar carve-out"). As a result, utilities need to obtain a certain number of solar renewable energy credits (SRECs). One SREC is equal to 1,000 kilowatt-hour.
Power Purchase Agreements
These financial agreements are created between two parties: one party generating electricity and one party buying electricity.
The power purchase agreement (PPA) defines the terms of the sale. The party generating the electricity can install a solar energy system on the buyer's property at little to no cost, and then sell the solar power generated to that customer at a fixed rate (one that is often $0.01 or $0.02 per kilowatt-hour lower than the local utility rate).
This type of agreement saves both parties money: the electricity generator receives income from selling solar power and takes advantage of rebates and tax credits while the purchaser gets to buy power at a lower cost and is protected against potential utility-rate increases.
To determine if a host site is a good candidate for a PPA, an economic analysis can be performed, taking into consideration the site's historical utility data, where the system's power connection can be made, and where solar panels can potentially be placed (roof, ground, etc.).
Ready to Get Started?
With this many financial incentives, credits, and rebates available, there's never been a better time for Illinois businesses to invest in solar and see a quick payback.
Contact Shive-Hattery to assist with:
Structural analysis
Site selection for solar panels
Write and distribute RFP or RFQ to solicit solar project
List of solar panel providers to solicit proposals from
Prepare site for solar installation
Connect the system to the facility's electrical distribution system