Operation BBQ Relief
Supporting Those Affected by the Midwest Derecho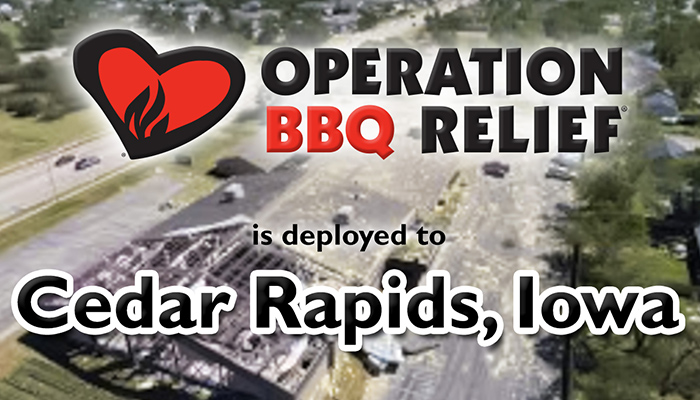 We're proud to be working with to provide much needed community relief in the Cedar Rapids area.
, a nonprofit disaster relief organization that supports communities by feeding displaced residents and first responders heartwarming barbeque meals, deployed to Cedar Rapids to provide hot, BBQ meals to families and first responders affected by the Midwest derecho on August 10. This is 's 68th deployment to support those affected by natural disasters since 2011.
While in Cedar Rapids, is serving upwards of 10,000 meals each day to families, first responders, and disaster relief volunteers.
"Barbeque is comfort food, and we are proud to bring some comfort to the people affected by the derecho and give them one less thing to worry about as they work to put their lives back together," said Stan Hays, CEO and Co-Founder.
Caring for people after a natural disaster with the added element of the COVID-19 pandemic takes additional measures of care and consideration to how serves those in need. Since the start of the pandemic, has implemented new health and food safety protocols as recommended by the CDC and local health departments.
"We work diligently with our volunteers and partners to follow all the recommended CDC and local health guidelines to keep everyone safe as we serve our meals," Hays said. "The health and safety of our volunteers and those we serve is our top priority."
For more information about , visit www.obr.org.