Partners in Climb
Shive-Hattery, clients rise together after 2008 floods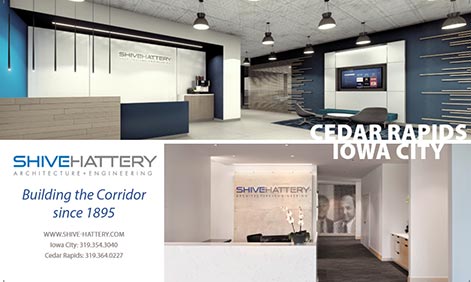 Shive-Hattery can look back at the floods 10 years ago with lessons learned and a sense of fellowship with many of their clients.
The architecture and engineering firm, part of the Corridor's fabric for more than 100 years, went through much of the same devastation as their clients, but together have been able to turn it into a positive.
"Try to remember what things looked and felt like 10 years ago (just after the flood) – the landscape of the Corridor has changed dramatically for the good these past 10 years," said Phil Larson, Vice Present/Iowa City Office Director. "As a community, we can celebrate and be proud of our area's success."
Shive-Hattery has grown from a downtown Cedar Rapids-based company to encompass nine offices across four states. Likewise, many of its clients have grown into national firms.
"The Corridor has lots of opportunity for growth," said Shawn Lueth, Vice President/Cedar Rapids Office Director. "Many of the markets that we serve are very strong. Industry and commercial seem to be the strongest. Our municipal clients not only have been dealing with flood mitigation, many are still needing to address their roadway and utility infrastructure needs."
Larson and Lueth also have seen a lot of investment in health care and higher education facilities, as well as residential and multi-family housing development.
Both Iowa City and Cedar Rapids have opened new design offices, Iowa City in 2015 and Cedar Rapids this fall. These offices have allowed Shive-Hattery to accommodate their growing workforce while bringing in the newest technologies and designs to serve their clients.
"Our clients are taking us into new markets and new regions across the country," Lueth said. "They are growing, and to best serve our clients, we need to have the right facilities."
Shive-Hattery's headquarters has always been located in downtown Cedar Rapids. When scouting for a location for the new office, search team members operated on one main criteria: Remain downtown.
"When a municipality has a strong downtown, it shows the city's strength, vitality. We are here to support the City of Cedar Rapids and their initiatives for growth," Lueth said. "Our clients also have their offices downtown as well. It's a great place for us to be connected and have a presence, so people can see that we're available to address their needs."
The new location will merge the third floors of the Wolf, Armstrong and Granby buildings, and by doing the design in-office, the team was able to preserve much of the historic buildings' character.
With offices on both ends of the Corridor, Shive-Hattery is proud to be able to respond to clients quickly.
"With the total number of staff and the combined capabilities and expertise of the staff, we have the ability to handle almost any project," Larson said.
That same sense of community and collaboration with clients has led to greater success for all.
"We owe a special thanks to all of our clients for letting our talented staff be part of their team to help them grow and be successful," Larson said. "It is very satisfying for our staff to celebrate in the Corridor's success, and we look forward to helping new and existing clients solve their special challenges to help the Corridor continue to be successful."
The Corridor Business Journal has recognized Shive-Hattery's dedication to its clients, awarding it the Best Architecture Firm in the Corridor, as well as inducting Shive-Hattery into its Hall of Fame for Best Engineering Firm.
The design teams don't just work in the Corridor; they live here, too, and are invested in helping the area grow and thrive.
"It is easy to take living in the Corridor for granted," Larson said. "With the current business environment, coupled with all the recreation, entertainment and restaurant choices in the area, the Corridor is a great place to live. There is a lot to celebrate!"