The City of Cedar Rapids sought a team to redevelop a parking lot in a prime location in Kingston Village, just west of the Cedar River in downtown Cedar Rapids. The City selected the team of M&W Properties and Build to Suit who had a goal of providing a contemporary building design to differentiate this development from other housing in the downtown area.
245 Kingston will be a five-story, 50-unit apartment building targeting young professionals with it's panoramic views of the downtown skyline from a shared rooftop terrace surrounded by a green roof.
Connected to downtown by a bus loop and bike trail, the complex will offer urban, car-optional living as well as secure at-grade parking. Other anticipated amenities include a rooftop grill and fire pit, in-building gym, UPS drop and Wi-Fi.
The high-end, two-story lofts offer spaces unlike any in Cedar Rapids.
Stay in Touch for Monthly Shive-Hattery Industry Insights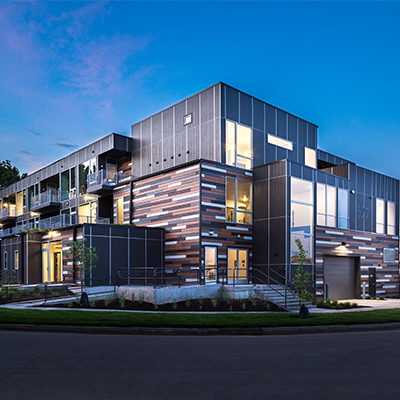 Orchard Court Lofts
Commercial | Iowa City, IA
More Commercial Projects
Creating the foundations that support community growth.