The new 12,000 square foot City Hall, Police and EMS facility is comprised of two main buildings. The first is a two-story office building with City Hall, City Council and the Police Department on the ground level and Emergency Medical Services, IT and storage spaces on the upper floor. The second building is a single-story ambulance bay.

The exterior is clad with two-tone brick veneer, bronze windows and metal trim with corbelled brick arches and the second story windows. Strong horizontal relief lines were created by stepping out individual courses of brick creating depth and shadow to the building's façade. The interior is clad in rich earth tone colors with slight burgundy accents. Stained and varnished wood trim and door panels offer visual distinction upon entering the building. Hidden light coves line the primary corridor and elegantly trimmed millwork defines the council bench and chambers.

A new small parking lot and sidewalks complete the secondary access drive. Subtle landscaping fills in the negative spaces and roots the building to the corner of the town square, establishing its own presence within the community.
Stay in Touch for Monthly Shive-Hattery Industry Insights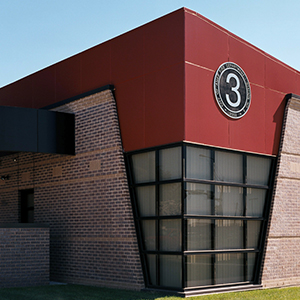 Ames Fire Station No.3
Public Saftey + Justice | Ames, IA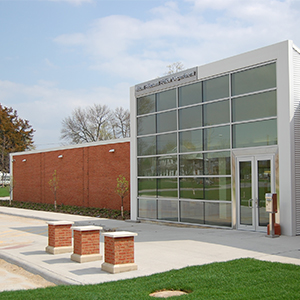 Mount Pleasant Police Station
Public Saftey + Justice
More Public Saftey + Justice Projects
Creating the foundations that support community growth.