As part of the vision for Valparaiso Central Park, the City of Valparaiso wanted to offer citizens a vibrant new outdoor environment as a place for concerts and other events, complimented by greenspace, in the heart of the downtown. The venue needed to offer flexible seating and full sound capabilities while fitting seamlessly into the turn-of-the-century feel throughout Valparaiso's historic downtown.

Shive-Hattery designed the Porter Health Amphitheater at Central Park Plaza to foster a sense of community and provide space for outdoor reflection, interaction, activities, concerts and performances.

The 12,000-square-foot, $3 million Amphitheater includes an open air-stage with lighting and sound integrated into lawn seating areas, public restrooms, a storage facility and machine room for an interactive water fountain and splash pad, serving as a focal point for the park.

The design of the Amphitheater complements the historic downtown using natural materials such as wood, stone and brick, and is surrounded by paver-filled hardscape and lawn areas, offering several types of seating options.

As a major downtown focal point, members of the community can now enjoy movie nights, outdoor concerts, farmers' markets, yoga and a variety of other events and programs being planned by the City of Valparaiso.
Stay in Touch for Monthly Shive-Hattery Industry Insights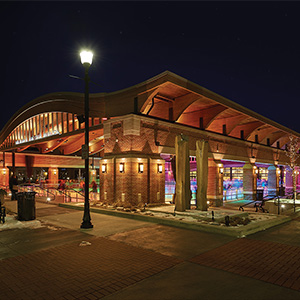 Valparaiso Central Park Expansion
Sports | Valparaiso, IN
More Government Projects
Creating the foundations that support community growth.