As a school district grows in size and opportunity, you have the option to build new facilities and enhance existing campuses. Through building additions, your district can leverage its facility funds to add space without sacrificing quality.
In order to incorporate student growth into a school district's facility, adding onto academic areas helps ease overcrowding of classrooms and provides opportunities to enrich curriculum offerings. Additions to existing facilities that focus on academics can help enhance a school's extracurricular and elective offerings.
Technology also helps drive forward momentum in academic expansions. Through the inclusion and growth of programs in career technology, students are able to explore new curriculum, such as culinary arts, science and engineering, robotics, and agricultural sciences.
Through thoughtful planning and design, building additions can be right sized and focused on the type of enhancement you are interested in pursuing. Blending into the fabric of the facility or standing out to make a statement, building additions today go further than just looking at the traditional classroom. Providing flexibility and versatile spaces allow you to adapt, reconfigure and grow your programs. Operable walls, break-out spaces, and areas for social as well as instructional learning are often planned into designs to create spaces where students want to engage and grow.
Stay in Touch for Monthly Shive-Hattery Industry Insights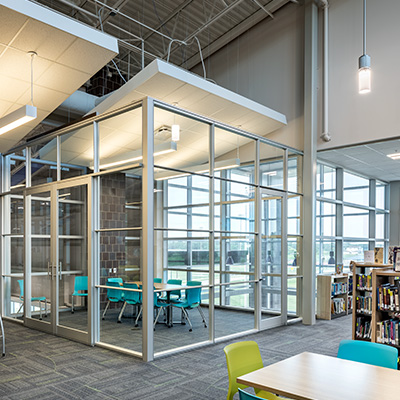 Clear Creek Amana Middle School Addition
Pre K-12 | Tiffin, IA
More Pre K-12 Projects
Creating the foundations that support community growth.