Getting to and from Regina Catholic Education Center's north parking lot caused frustration and security challenges. The single, narrow access point created long lines and safety issues as pedestrians and cars filtered through.

In addition to improving parking-lot access, the school also wanted to renovate its wrestling and weight rooms. Funds were available, thanks to a $6 million capital campaign, but costs needed to be kept down. After receiving a large financial gift for an indoor hitting facility, Regina decided to locate its wrestling and weight rooms inside the new indoor hitting facility so the capital campaign funds could be redirected.

As Shive-Hattery worked to establish easier access to the site's north parking lot, the location for a two-story, 29,400-square-foot indoor hitting facility was also identified.

The pre-engineered metal building features steel beams and columns with wood trusses. On the upper floor, baseball and softball players of all ages can work on full infielding defense. The lower level includes weight and wrestling rooms, along with space for meetings and film viewing.

The building's 120-foot by 120-foot footprint creates 90-foot base paths to match high school field dimensions. An 18-foot ceiling helps players prepare their arms for long-toss programs, and allows hitters to accurately sense ball launch and travel. The facility also features a large wall designed for medicine balls and weighted balls.

Its flexible design can be reconfigured to create either a full high school infield or a series of seven 72-foot by 16-foot batting cages (while still leaving an open area for long toss, arm care, and fielding drills). The batting cages can also be split in half to accommodate tees, soft toss, pitching machines, and live pitching.

The new indoor hitting facility provides a one-of-a-kind sports experience, improves athlete performance, and attracts new students who are excited about having a first-class amenity. Improved entrance to the campus' north parking lot allows vehicle and pedestrian traffic to flow smoothly – without any safety issues.
Stay in Touch for Monthly Shive-Hattery Industry Insights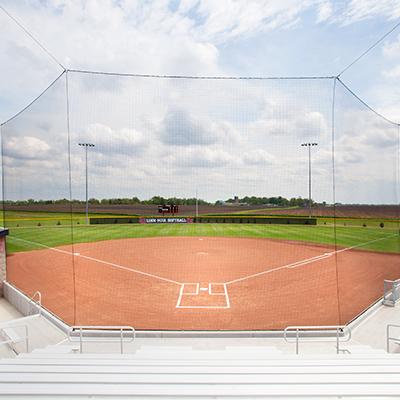 Linn-Mar Schools High School Varsity Baseball and Softball Complex
Marion, IA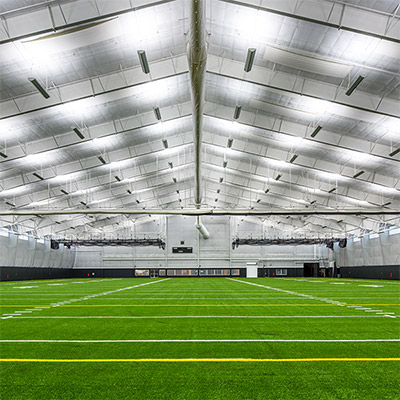 University of Iowa Hawkeye Tennis & Recreation Complex Addition
Sports | Iowa City, IA
More Pre K-12 Projects
Creating the foundations that support community growth.