The time was right for Prairie Meadows Racetrack & Casino to renovate two of their celebrated restaurants: AJ's Steakhouse and the Triple Crown Buffet. These renovations included visually distinctive finishes, additional capacity for the steakhouse, a physical connection between both restaurants and prominent entry portals demarking each venue.
AJ's Steakhouse – a bold new entry portal was created fronting the public concourse. Dark wood tones and a large glazed opening provide a distinctive presence. Finishes included a mix of black, off white, and charcoal gray colors along with textured glass accents. Glass tile and concealed LED lighting punctuate the ambiance. Space for an additional 44 occupants was provided by repurposing underutilized buffet area. This facilitated spacious hostess, waiting and bar areas while providing a link connecting both venues.
Triple Crown Buffet – adjacent to the main lobby, this portal of open walls, curved ceilings and soft plantings embraces the senses as the sights, sounds, and smells captivate the guests. To showcase their culinary creations, renovations utilized a palette of neutral tones, large format tile and polished quartz surfaces along with bold accent colors. Key features included raised ceilings, a central hostess station, splayed serving islands and a variety of dining areas. The illusion of height was created with coffered ceilings and concealed lighting while durable products were chosen to withstand heavy use.
These renovations to AJ's Steakhouse and Triple Crown Buffet have taken these two celebrated dining venues to the next level allowing Prairie Meadows to better serve their guests.
Stay in Touch for Monthly Shive-Hattery Industry Insights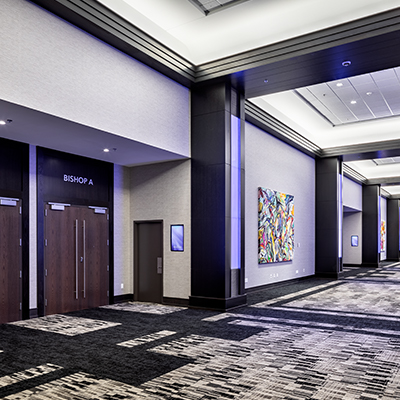 The Meadows Event Center
Commercial | Altoona, IA
More Commercial Projects
Creating the foundations that support community growth.