Purchasing a three-story, 70,000-square-foot office building in Schaumburg, Illinois, Atlas Financial planned to lease the first floor and occupy the second and third floors. Built in the 1980s, the structure was made of concrete and featured horizontal windows – design features common in that decade. But the company wanted to transform the space into a modern interpretation of a Brooklyn loft. The goal was to create a class-A office headquarters building that would help attract and retain qualified, talented employees throughout the Chicago area.

Atlas Financial needed a plan and design that would establish the look it wanted, as well as create a sense of connectedness among staff – even though they would be located on two different floors.

Placing a priority on an open-office environment – and wanting to prevent the common office design that places employees in the center of the space and leaders along outer walls – Atlas Financial wanted all employees to have access to natural light, no matter where their offices were located. Staff members also needed a variety of conference and training spaces.

Working in partnership with Provost Studio, Shive-Hattery created a design for the second and third floors of Atlas Financial's corporate headquarters building. The design brings natural light into nearly all workspaces and provides open, collaborative offices with furniture selected to support this type of work. A communicating staircase was added to join the second and third floors.

The company's corporate colors of black and white – along with a combination of woods and metals – are carried throughout the space. To incorporate Atlas Financial's branding, such as showcasing its mission statement on a feature wall, Shive-Hattery worked in concert with Provost Studio to identify appropriate locations for branding implementation.

Meeting spaces were also a priority – not only to hold employee gatherings, but also to bring potential clients or host the board of directors and hold special events. With a café environment, a breakroom serves as a hub of activity, featuring refrigerators, microwaves, a snack bar, and bar-height seating.

A multi-story flex space accommodates all 300+ employees at once (but can easily support smaller meetings as well), with movable, modular furniture. Featuring a stage and large screens, it's reminiscent of an in-house TED Talk setup. Vertical, 25-foot "fins" – designed in partnership with Chicago Scenic Studios – run between the two floors and surround the flex space. With the ability to rotate nearly 180 degrees, they can be opened or closed. When open, they offer visibility into the space from almost anywhere.

A library with a lounge feel, incorporating leather furniture and open shelving, provides a space for the company's CEO to entertain in an intimate atmosphere.
In partnership with Millies Engineering Group, the renovation also involved design and installation of new mechanical systems, new lighting systems, and plumbing reconfiguration work.

Moving from a drab office space to a dynamic, sleek, and impressive workspace helps employees take pride in their work and feel connected as they move toward one common goal.

Atlas Financial now has a workspace that attracts the right kind of staff and keeps them engaged once they're hired, while also offering a coveted place to host special events and meetings. With collaborative work areas and flex meeting space, employees have options about where and how they want to work.
Stay in Touch for Monthly Shive-Hattery Industry Insights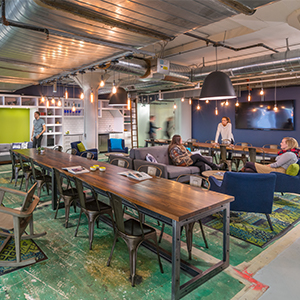 Walton Isaacson – 325 N. LaSalle 5th Floor
Commercial | Chicago, IL
More Workplace Projects
Creating the foundations that support community growth.