Grubhub's New York City location expanded so quickly that the company ran out of room in its existing space at 5 Bryant Park. As a result, the team moved five blocks away to a different building. When Grubhub later had the opportunity to return to 5 Bryant Park, the company jumped at the chance. In addition to expanding, staff members also wanted to create an office that would act as a recruiting tool and better represent its corporate culture.


The 15th floor – originally occupied by Grubhub – was completely gutted. The company tripled its square footage by occupying the 12th and 13th floors as well, totaling a 58,387-square-foot workspace that accommodates 460+ employees. Subtle design details reflect the storied Garment District while neutral tones, deep gray walls, and exposed brickwork give off an industrial vibe complemented by warm lighting.


Shive-Hattery also created several collaboration and open lounge areas for employees to use in whichever way they choose as they gather to work or relax. Each of the three floors includes a large collaboration room that shows off Grubhub branding and design elements. Small phone rooms on all three floors feature one solid color that represents a branded food item.


As the nation's leading online and mobile food ordering and delivery marketplace, Grubhub now has room to grow across three floors inside 5 Bryant Park. The space reflects the company's playful corporate culture, helps attract top talent, and complements its Chicago headquarters as a secondary hub.
Stay in Touch for Monthly Shive-Hattery Industry Insights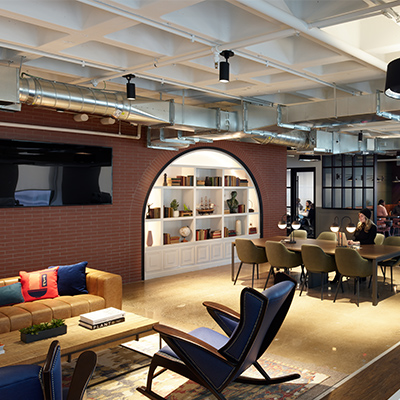 Grubhub – Philadelphia
Commercial | Philadelphia, PA
More Commercial Projects
Creating the foundations that support community growth.