After making key acquisitions and experiencing rapid growth in their New York Office, Grubhub wanted to create a Philadelphia office, which would help it expand into a new market and bring new groups of employees together instead of being dispersed across three locations.

Grubhub staff also wanted the new space to reflect the local Philadelphia culture and include amenities that could be used as recruiting tools in a competitive job market.

Despite a condensed, 10,000-square-foot floorplan, Shive-Hattery gave Grubhub everything it wanted in its new Philadelphia location.

A central collaboration area serves as the hub of the office and gives employees a place to relax and discuss new ideas. To provide staff members with a room to gather for all-company meetings, a large town hall space with soft seating – a space incorporated into every Grubhub location – supports after-hours get-togethers as well as virtual meetings through large video screens and room for 100 people.

A shuffleboard table, TV screens, and colorful photography allow a nearby breakroom to be transformed into a lounge after hours – or when employees need a break.

To incorporate the local Philadelphia culture, architectural cues from Reading Terminal Market and old row houses inspire Grubhub's design details. Built-in archway nooks give employees a place to enjoy a snack, take a personal call, or have a conversation with a coworker. That same archway theme is also incorporated into built-in shelving in a collaboration area. Local artwork, including a nod to the Rocky Balboa statue, was incorporated along with maps of local neighborhoods.

The new Grubhub office in Philadelphia offers space for nearly 100 employees, with room to grow in the future. Instead of working across three separate locations, employees now work together under one roof. With a variety of collaboration areas, a lounge, and hangout areas intended to attract potential employees, the new workspace will help Grubhub recruit and retain new talent.
Stay in Touch for Monthly Shive-Hattery Industry Insights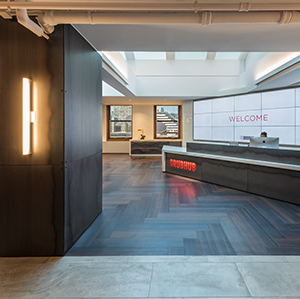 Grubhub Headquarters
Commercial | Chicago, IL
More Commercial Projects
Creating the foundations that support community growth.