Iowa Department of Administrative Services Iowa Building Demolition (Mercy Capitol)
Located in Des Moines, IA
Shive-Hattery was selected by the Iowa Department of Administrative services for the complete demolition, utility disconnection, and site restoration of the 300,000-square-foot Iowa Building.

The Iowa Building, formerly known as the Des Moines General Hospital, was a complex structure made up of over 50 years of construction including six major construction/addition projects. The project required detailed evaluation to define and locate existing utilities, structural systems, and foundations to accurately document the demolition requirements and allow bidders to provide more precise bids with fewer unknowns. There were multiple adjacent properties and buildings which required avoidance and protection throughout the project demolition process. The site is located on the State of Iowa Capital Complex requiring detailed traffic and construction staging evaluations.

As part of the demolition design underground utilities and foundations were completely removed with controlled backfill being required for the site restoration to allow for flexibility of future development on the site. Deep foundations to remain were required to be documented in detail such that future development of the site can accommodate and potentially utilize these existing deep foundation systems.

The project was designed on an aggressive schedule which has been maintained throughout design and bidding. Bids were successfully received and included numerous contractor bids well under the project cost estimates. Contracts for the hazardous material abatement and building demolition have been executed and the project is currently under construction.
Stay in Touch for Monthly Shive-Hattery Industry Insights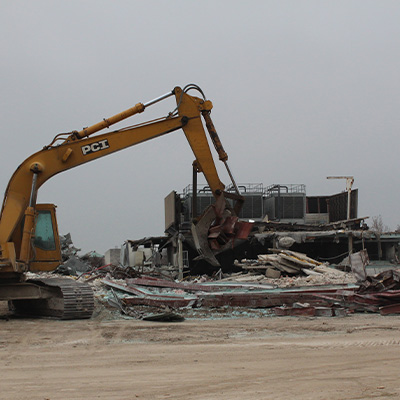 University of Iowa Raze Hancher Demolition
Higher Education | Iowa City, IA
More Government Projects
Creating the foundations that support community growth.