Knowing that first impressions matter, JLL – the firm that manages 550 West Washington – wanted to upgrade and renovate the building's main lobby area. As a 17-floor, 372,000-square-foot building built in 2000 with several notable tenants, it was important to JLL to keep 550 West Washington on the same level as newer Class-A buildings available in Chicago. Building tenants also wanted a lobby area that was usable, functional, and attractive.

To create a cost-effective solution, Shive-Hattery worked with existing flooring and a few other key features to refresh the space without completely gutting it. A combination of gray, black, and white create a modern, professional feel and complement the original floors.

Backlit panels and custom-made metal screens on walls create an upscale feel upon entering. The building's existing art piece, which is affixed to a platform, now serves as the centerpiece of a community table that was designed and built around the platform. Plenty of new lobby seating and collaboration areas create other usable work and meeting spaces for tenants.

Throughout the project, Shive-Hattery worked closely with JLL to ensure that the lobby remained operational and accessible for tenants and visitors.

With a redesigned lobby that maintains certain key design features, JLL now offers an impressive lobby space to tenants at 550 West Washington.

The space accurately reflects the amenities and office spaces available inside and is something that tenants can be proud to show off. They're also able to use the lobby as a functional space for meetings and quick gatherings.
Stay in Touch for Monthly Shive-Hattery Industry Insights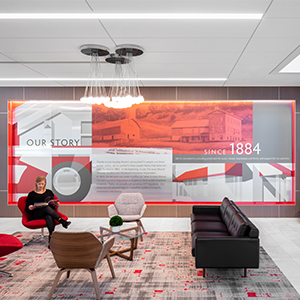 IMT Insurance New Corporate Headquarters
Commercial | West Des Moines, IA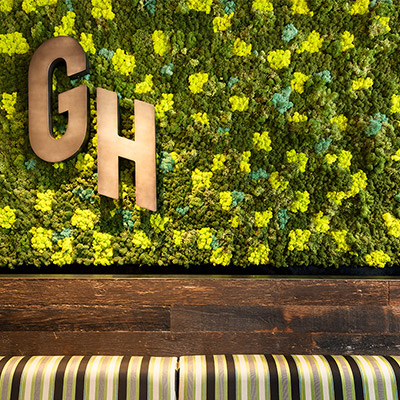 Grubhub Headquarters – Branded Environment
Chicago, IL
More Commercial Projects
Creating the foundations that support community growth.