Because the rooftop deck is visible from two conference rooms, it was also important to GrubHub that the space look appealing so it captured attention and drew people outside.

To maximize use of the 3,000-square-foot rooftop deck, GrubHub wanted it to act as an extension of the interior office. To do this, Shive-Hattery made modifications and improvements to the existing infrastructure to create an area that represents the company's culture and team.

Canopies and custom-designed pergolas made of structural steel offer shade without obstructing one-of-a-kind views. The addition of a bar – complete with a TV, sink, and refrigerator that dispenses kegs – provides a place to sit and serve food and beverages. Bright red loungers and tables provide comfortable places to relax with laptops, notebooks, or lunch. Wireless access allows employees to hold meetings and continue their work outdoors.

To visually connect the rooftop deck to the interior, and create a rainscreen, the exterior EIFS panel system was replaced with a thin-brick system that was also used on the interior. A custom sign features GrubHub lettering, adding to the company's brand identity. The sign is backlit; colors can be changed based upon upcoming events and holidays. Planters were also incorporated so employees can harvest vegetables and herbs all summer long.

Because of the harsh Chicago winters, the rooftop deck isn't usable during cold months. So Shive-Hattery designed an interior overflow space that connects to the entrance of the rooftop deck. With a moss wall, greenery, and access to natural light, it helps employees maintain a connection with the outdoors all year long.

GrubHub's newly renovated rooftop deck gives employees a unique space that not many Chicagoans have access to at work: a dedicated outdoor area all their own. Designed to accommodate all types of activities, with wireless access, a TV, a bar, and lounge furniture, the area is rarely empty. Touring the rooftop deck has become a highlight for potential employees and new hires. Once they see the space, they want to spend more time there.
Stay in Touch for Monthly Shive-Hattery Industry Insights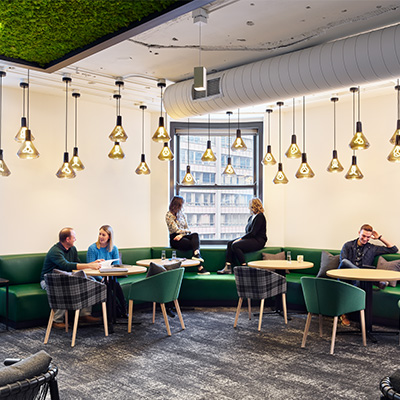 Grubhub – 111 W. Washington, 7th Floor
Commercial | Chicago, IL
More Commercial Projects
Creating the foundations that support community growth.