When a vintage sewing factory in downtown Dyersville, Iowa, closed its doors in 2017, a local art teacher and pharmacist dreamed of transforming it into a one of a kind micro-brewery. They knew this investment would revitalize the building and attract people to downtown.

Shive-Hattery worked closely with the owners to incorporate their ideas and artistic flair. 3D scans and renderings gave the owners insight into existing conditions and allowed everyone to visualize the new space. Mannequins, garment bins, vintage light fixtures and original shiplap siding further accentuated the space as repurposed interior décor.

Portions of the floor between the lower-level brewery and the upper-level bar were opened up to create a greater connection between the spaces with some items reused as finishes for the bar.

Textile Brewing Company is bringing new life to downtown Dyersville, providing a place with which the community can be proud. Ultimately, blending the owners' artistic flair with vintage artifacts for both a fun and rare glimpse into the local heritage.
Stay in Touch for Monthly Shive-Hattery Industry Insights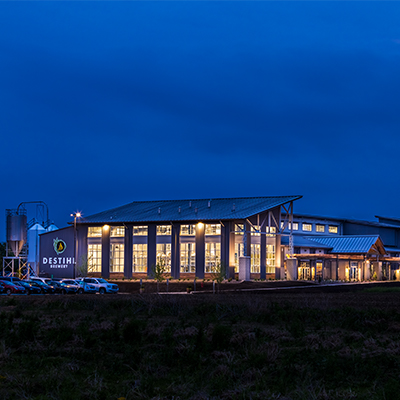 DESTIHL Brew House
Commercial | Normal, IL
More Commercial Projects
Creating the foundations that support community growth.