Staff space in the hospital's Critical Care Unit (CCU) was inefficient, patient rooms were crowded, and space was poorly utilized. Visual access from the unit clerk to family waiting did not exist, which interfered with security. The waiting room was also inefficient, uncomfortable and crowded for families and friends spending stressful hours or days supporting and visiting critically ill patients. Our design team was challenged to find creative ways to maximize space within tight quarters of the existing 32,580-square-foot building unit. The difficult design also needed to allow for phased construction in order to limit disruption of care.

Shive-Hattery's solutions converted areas into more usable and open spaces where staff could move more efficiently, and visitors could feel more comfortable. Some of our design focused on the following:
Patient Rooms were reconfigured to meet the needs of a state-of-the-art Critical Care Unit, including removing unneeded chase space and utilizing ceiling mounted booms.
An oversized planting area was turned it into equipment storage.
An unnecessary corridor was incorporated into staff space.
The nurses' station and support spaces were entirely reconfigured for improved sight lines to the patients. More functional space within the existing patient pod was also created.
In the Family Waiting Area an awkwardly located 2-story atrium was enhanced by infilling and adding floor space at the base of the stairway, and more appropriately sizing the stairway and atrium to better fit the space.
The Family Waiting Area was also completely reconfigured to provide practical amenities in an improved environment with enhanced comfort and privacy for family groups.
A cozy, colorful children's play area was added to the Family Waiting Area.
An additional entrance to the Family Waiting Area was added for more intuitive wayfinding between the CCU on Level Three and the Family Waiting Area on Level Two.
The Shive-Hattery design team facilitated a focus group with family members of patients served in the Critical Care Unit. The following list of requests from participants had a direct impact on the design:
Kids play area. Some families have no choice but to bring children with them while a loved one is in Critical Care. This is especially true when one of the parents is the patient. In a space where many families are going through crisis, it can be hard to keep kids occupied and not disruptive to other families.
Lockers with electrical outlets for charging phones and computers. Previously, family members would sleep on their purses or electronics in order to feel like these items were secure. A secure place was request for storing such items while they visit their loved ones in the patient room. It added to their stress to have to take all of their belongings with them into the patients room.
A variety space layouts with varying privacy levels. Some family members preferred the support of the other families, while still having options for privacy. And other family members preferred more private options to support the emotional challenges that come with these intense situations.
Stay in Touch for Monthly Shive-Hattery Industry Insights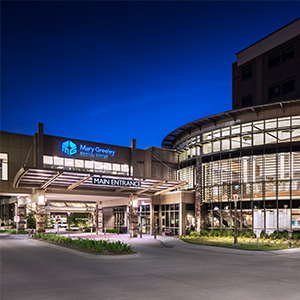 Mary Greeley Medical Center Addition and Renovation
Healthcare | Ames, IA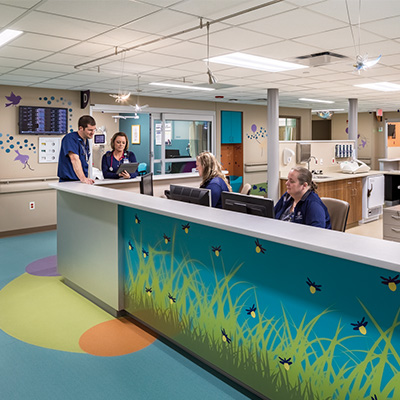 UnityPoint IMMC Emergency Department Waiting Area Renovation & Addition
Healthcare | Des Moines, IA
More Healthcare Projects
Creating the foundations that support community growth.