Between 1980 and 2009, national call volumes to E911 facilities more than doubled. These buildings must be designed to dispatch police, fire and emergency medical resources quickly while providing a comfortable environment that reduces stress for staff.
By developing an approach that helps communities address current and future E911 facility needs, Shive-Hattery begins with determining proper staffing requirements per NEMA and NFPA requirements. This analysis isn't completed by simply looking at staffing averages alone – examining data about call volume and average call length is necessary to determine the appropriate level of staffing to lessen call wait times.
Shive-Hattery then interviews dispatchers and managers to fully understand their needs, departmental relationships, challenges and community-specific information. Based on this comprehensive analysis, we can produce several modern design options to support around-the-clock services and efficient communication.
Stay in Touch for Monthly Shive-Hattery Industry Insights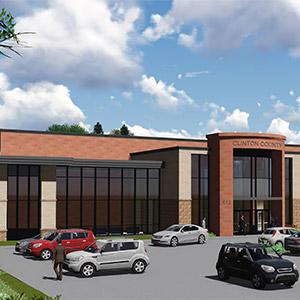 Clinton County Justice Center – LEC, Jail, EOC, and E911
Public Saftey + Justice | Clinton, IA
More Public Saftey + Justice Projects
Creating the foundations that support community growth.