Experiential Graphic Design and Branded Environments at Ajinomoto Headquarters
Located in Itasca, IL
Ajinomoto Health & Nutrition North America, Inc., a wholly-owned subsidiary of global company Ajinomoto Co., Inc., needed a North American headquarters to provide working, meeting and demonstration space to meet evolving customer and employee needs. The new 55,000-square-foot space includes a Customer Engagement Center, sensory evaluation laboratory and more to drive innovation, improve customer experiences and support customer needs.
Clients and employees enter the one-story building together, creating interaction as they embark on a tour of the company's history. A progression of museum-like displays in the lobby include replicas of the evolution of the company's monosodium glutamate (MSG) bottles – one of its many taste inventions – from 1908 through the current shaker and obelisks engraved with certificates of achievement.
Along the tour, wall graphics tell the story of Ajinomoto Co., Inc.'s accomplishments supporting the corporate message of "Eat Well, Live Well." One graphic wall tells of the discovery of umami – the fifth taste – and other ingredient innovations such as kokumi and aspartame. Another depicts how the company's understanding of amino acids has contributed to the wellness, flavor, personal care and pharmaceutical industries. With the company's commitment to health and wellness, sustainably sourced materials were used, including recycled materials, and heavy plastics rejected.
The corporate brand's vibrant red color was subtly scattered throughout the building, such as backdrops for wall graphics. The Customer Engagement Center has displays of red-painted recycled glass condiment bottles and glass printed art to reflect the expansive food categories they support. Other wall backgrounds included natural wood with amino acid-inspired elements and nature murals in small group collaboration areas and other common spaces outside offices and labs.
The colors and materials used throughout the tour create not only a vision of Ajinomoto Health & Nutrition's culture but also fosters a feeling of excitement and creativity, which is important for both clients and employees working to develop the company's next big innovations.
Stay in Touch for Monthly Shive-Hattery Industry Insights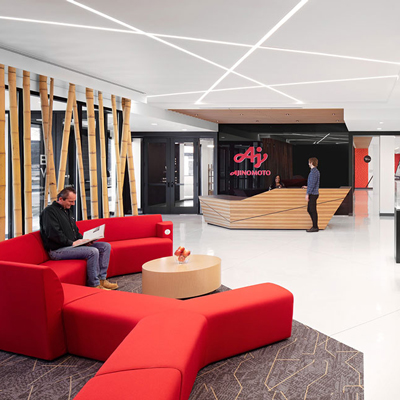 Ajinomoto Headquarters
Commercial | Itasca, IL
More Commercial Projects
Creating the foundations that support community growth.