Ajinomoto Co., Inc., is a century-old, global company founded on the discovery of the flavor enhancer monosodium glutamate (MSG) and now is a global leader in the research, development, manufacture and sale of amino acid-based products for the pharmaceutical, nutraceutical, sports nutrition, health and beauty industries, as well as food ingredients. In looking to create a North American headquarters in the suburbs of Chicago, Ajinomoto Health & Nutrition North America, Inc., a wholly-owned subsidiary of Ajinomoto Co. Inc., wanted the space to be a celebration of its heritage while also elevating their domestic brand presence, a showcase for not only visiting clients but also its employees.
The single-story building's interior spaces mixes the influences of science, museum-quality sophistication and hospitality. Employees and clients alike arrive through a single entrance, which opens onto a lobby that is simple and bright, with intentionally designed floor paths that guide people past display cases showing artifacts from the company's history.
The hospitality suite, which serves as both a break area for employees to eat and work as well as a place to entertain clients, has textural finishes, a variety of comfortable seating options and display shelving filled with greenery. Hexagonal acoustic baffles suspended from the ceiling not only create an aesthetic ceiling treatment but dampen the conversational noise from the area.
To create a bright, airy feel, skylights were placed throughout the space to complement large windows lining the exterior walls. Workstations are located along the exterior walls to give the advantage of natural light to the majority of staff, whereas most private offices are located in the interior space.
To increase security and client privacy, public areas are isolated from workspaces, and food-specific laboratories include retractable window coverings to allow flexibility in privatizing the space.
With the changing travel and office dynamics due to the pandemic, the Customer Engagement Center's services were expanded to allow for webinars, virtual cooking demonstrations and video conferences. Professional cameras and lighting were added to create a sophisticated studio atmosphere.
Ajinomoto Health & Nutrition will now have a local innovation center to host and welcome North American clients that looks to the future while honoring the company's long history of achievements.
Stay in Touch for Monthly Shive-Hattery Industry Insights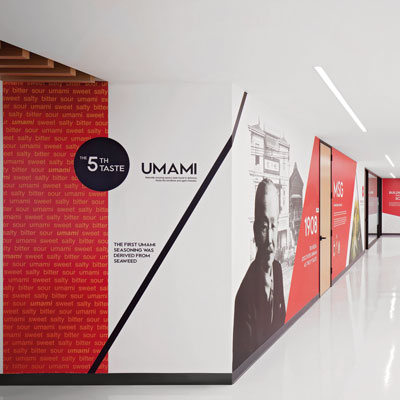 Experiential Graphic Design and Branded Environments at Ajinomoto Headquarters
Commercial | Itasca, IL
More Commercial Projects
Creating the foundations that support community growth.