A Fortune 50 healthcare insurance company was getting ready to occupy two 40,000-square-foot floors in a new Phoenix office building. Early on in the project, two groups of employees had been identified as the future occupants and Shive-Hattery created designs to suit each group. After the permitting process was complete, however, occupancy changed. The group of tenants occupying the second floor would now be from a company owned by the healthcare insurance company – not from the healthcare insurance company itself. This organization had different design and branding guidelines that required design plans to be rethought.

Shive-Hattery reviewed the existing plans and explored ways to use design to reflect two separate business units that also complemented one another. Because of the work being done by the new tenants, the second floor needed more closed-door offices than originally planned. Much of the second-floor design had to be revisited to ensure that daylight was still accessible throughout the floor, despite the addition of more offices along the window line.

A dual-purpose collaboration stairs is used on one side for circulation while the other side accommodates seating and places for people to gather for lunch, impromptu conversations, or quick meetings. A mix of collaborative space, private workspace, and training rooms gives employees room to work on joint projects or complete heads-down work. Non-standard finishes, Phoenix skyline graphics, wallcoverings and window films representing native landscapes, and branded imagery unique to each tenant were used throughout the two floors.

To support sustainable design, construction waste was diverted from the landfill, recycled content was used when possible, and local materials were sourced. Paints, coatings, flooring, and carpet products all feature low VOCs. The result was a LEED Silver certification for the building.

This new project gives the Fortune 50 healthcare insurance company – and the company it owns – a workspace that appeals to new and existing employees, along with spaces that support the type of work being done inside.
Stay in Touch for Monthly Shive-Hattery Industry Insights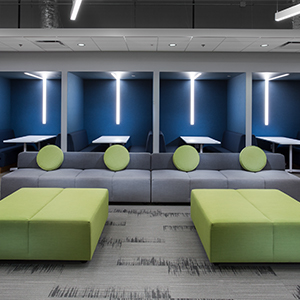 Fortune 50 Healthcare Insurance Company
Commercial | Phoenix, AZ
More Commercial Projects
Creating the foundations that support community growth.