A global leader in digital services and consulting wanted to establish a tech hub in the Midwest. Wanting to hire 2,000 U.S. workers in Indiana by 2021, it needed a larger Indianapolis office space that would support new-employee training and retain existing employees, keeping them ahead of the digital transformation.

The company's new Technology & Innovation Hub spans the two floors of OneAmerica Tower. Because they wanted a highly flexible, adaptable environment, Shive-Hattery created a 32,000-square-foot workspace without dedicated offices. Instead, staff members move around freely and choose their locations based on projects and tasks for the day.

Each floor has its own conference room to facilitate meetings and video calls. Small huddle spaces provide room for three or four people to brainstorm and collaborate. Private spaces are also available for phone calls, heads-down work, or sensitive conversations. Moveable furniture can be shifted around and rearranged as work changes. Both floors also have their own breakrooms. In their first-floor breakroom, stadium bench seating allows employees to gather for all-company meetings. Collaboration areas incorporate metal screens with integrated marker boards. As much as possible, every accessible surface can be used to take notes.

Because the tech leader was rebranding during its move to a bigger Indianapolis office, Shive-Hattery incorporated those concepts into the new space, including raw industrial materials, bright colors, and fun patterns. The company was also hoping for polished concrete floors in most spaces. Shive-Hattery was able to use an epoxy fill that matched the concrete color to provide the look the client desired, despite issues with the existing concrete floor slab.

The newly designed space helps the company's 200+ employees develop skills to help their clients with digital transformation. The Technology & Innovation Hub fosters collaboration and creation, with flexible spaces that can quickly be changed and rearranged to accommodate different workstyles.
Stay in Touch for Monthly Shive-Hattery Industry Insights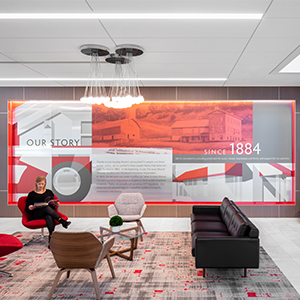 IMT Insurance New Corporate Headquarters
Commercial | West Des Moines, IA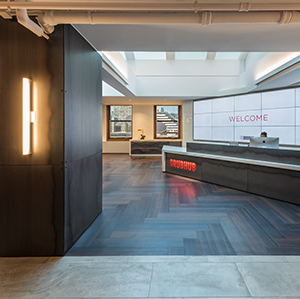 Grubhub Headquarters
Commercial | Chicago, IL
More Commercial Projects
Creating the foundations that support community growth.