Occupying one floor within Los Angeles' 52-story City National Plaza, RSM was growing and needed additional square footage; the company wanted to expand to two full floors instead of relocating to a new space elsewhere.

During the expansion, RSM also wanted to update its workspace to better serve as a selling point for recruitment and compete against other modern downtown Los Angeles office spaces.

Nationwide, RSM works closely with Shive-Hattery to standardize workplace design across its office locations while also including local touches. In addition to incorporating graphics that reflect the local vibe, the Los Angeles branch also wanted to incorporate amenities that would entice and appeal to new talent in the area.

Shive-Hattery's design helped RSM occupy two floors as efficiently and flexibly as possible within City National Plaza. Available square footage grew from 20,000 to 40,000. To provide a seamless transition from one floor to two floors, the project was completed in phases. The move from one to two floors offers the capability for future expansion.

Reflecting the vibe of Los Angeles, the work area design is understated, clean, simple, and minimalistic, carrying a lightness and brightness to promote productivity.

To personalize the space and make it attractive to young, local professionals, the breakroom features a sketch of the city's skyline. Other incorporated graphics celebrate Los Angeles monuments and important pieces of architecture within the region. Custom-designed branding graphics in the reception area are showcased on an illuminated vision wall where employees are reminded about RSM's vision and mission while clients get to see first-hand who RSM is, what the company is about, and what is most significant to them.

After Shive-Hattery helped RSM expand its Los Angeles office to two 20,000-square-foot floors within City National Plaza, the company now has much-needed space for future growth. Down the road, the company can remain confident that it has square footage to accommodate more employees through hoteling concepts and shared workspaces – without having to expand its footprint.
Stay in Touch for Monthly Shive-Hattery Industry Insights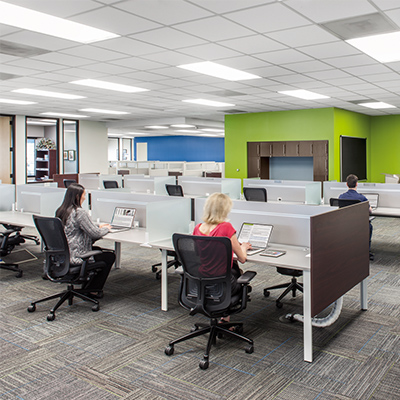 RSM – Irvine – 5th floor Tenant Improvements
Commercial | Irvine, CA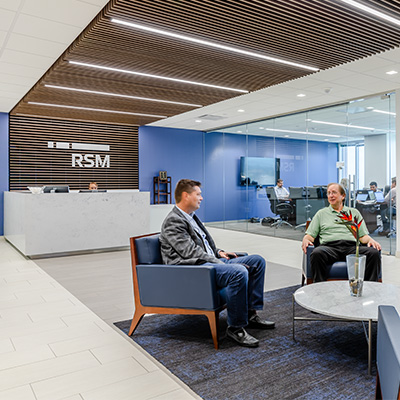 RSM – Dallas, TX
Commercial | Dallas, TX
More Commercial Projects
Creating the foundations that support community growth.