Grubhub, the nation's leading online and mobile food ordering and delivery marketplace, is experiencing rapid growth: The company headquarters at Burnham Center (111 West Washington Street) has expanded from 600 to 1,000+ employees (and is still growing).

To help the company keep up with customer and employee demands, Shive-Hattery has designed workspaces on floors two, seven, eight, 19, 20, 21, and 22 of Burnham Center. Floor layouts ensure that each team member is easily accessible and readily available. Desks are arranged so coworkers can see each other; glass doors let everyone see in and out of conference rooms, offering inspiration and encouraging brainstorming.
Because Grubhub's world revolves around food, Shive-Hattery created a metaphorical hearth made up of a large multipurpose, town-hall space that serves as a kitchen, collaboration area, and activity room for all-hands meetings (or the occasional wing-eating contest!).
The inclusion of "Slice," an internal restaurant-simulation program that puts employees in the roles of restaurant workers and diners, allows testing of new food products. A game room, bar, and private roof deck let employees step away from their desks to work, play, or relax. Each floor's design integrates functional and creative environmental graphic design elements that reflect Grubhub's brand.
 
Most recently completed at Burnham Center is Grubhub's seventh-floor project, which includes 18,650 square feet and room for 120 employees, as well as its own town-hall space.
 
As Grubhub continues to grow, Shive-Hattery will continue to design spaces with a cohesive feel across each floor, ensuring that employees have functional areas to facilitate communication, collaboration, and quick decision-making while making the most of the company's playful culture.
Stay in Touch for Monthly Shive-Hattery Industry Insights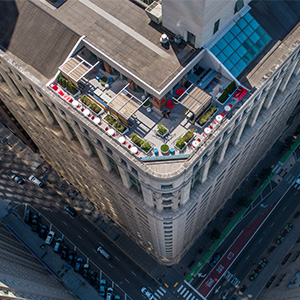 Grubhub Headquarters Roof Deck
Commercial | Chicago, IL
More Commercial Projects
Creating the foundations that support community growth.