Sycamore Mall was an aging facility reeling from the loss of its anchor tenant and adjusting to systemic changes in the retail landscape. It needed to cost-effectively rebrand and offer shoppers a unique destination.
A phased transformation to a lifestyle center is establishing an extended-hours, vibrant blend of unique offerings from food and entertainment to health, fitness and grooming. Larger tenants – such as Lucky's Market (37,000 SF) and Planet Fitness (18,000) – reorient to the exterior for visibility and pedestrian activity, while interior common areas are more richly programmed to invite customers inside. At Lucky's, service doors were converted to storefront, original entrances were stripped down to structure, and the entire façade reconstructed for a farmers' market feel. The interior was gutted, reconfigured for grocery equipment and skylights were added for natural light. Elsewhere at the rebranded "Iowa City Marketplace," exterior & interior updates are ongoing, and further transformations to accommodate new tenants are in the works.
A more contemporary experience and unique offerings are breathing life into this area of town and restoring economic vitality to Iowa City Marketplace.
Stay in Touch for Monthly Shive-Hattery Industry Insights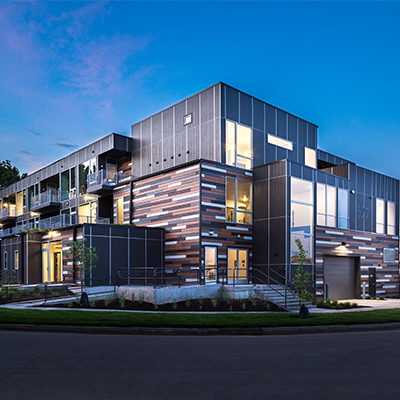 Orchard Court Lofts
Commercial | Iowa City, IA
More Commercial Projects
Creating the foundations that support community growth.