Station 9 had been in consideration since 2001 and had been shelved for one reason or another. Understanding the tremendous need for the new station, the City of South Bend and South Bend Fire Department worked tirelessly with the design team to gain community buy-in, secure a centrally located site, and serve the daily needs of the first responders living in the new facility. Topping the effort, Station 9 has become the second LEED Certified project taken on by the City of South Bend. It also won the 2020 First Place Station Design Award from the Fire Industry Education Resource Organization (FIERO).
Station 9 was implemented through a thought process that delivers safety for its occupants with efficiency and design at a level of detail and consideration beyond the fire departments expectations. This station idealizes what a fire station should be from departmental and community perspectives.
As a first-place winner of the 2020 Fire Industry Education Resource Organization (FIERO) Design Award, the station's innovative design accomplished the following:
Decrease total annual energy cost savings by 30 percent compared to standard fire stations, with an additional 8 percent through solar panels.
Native, regional landscaping eliminating the need for irrigation and sprinkler systems, decreasing total water consumption by almost 46 percent. 
Constructed with a high percentage of recycled content.
Innovative construction strategies diverted waste produced during construction away from landfills and prevented unnecessary loss of soil.
The image above shows the ground floor plan of South Bend Fire Department Station 9, completed in May 2019. The implementation and careful separation of the three zones – hot, transition, and safe – promotes a healthy and safe work environment for the firefighters using the station. Anything that could potentially be contaminated is kept in the red zone, such as the apparatus bay, turn-out gear lockers, gear wash room, etc. All the living/working spaces are kept together in the green zone, preventing any cross-contamination with services considered part of the red zone. The transition zone acts as a buffer between the two, allowing "neutral" access to both red and green zones.
Stay in Touch for Monthly Shive-Hattery Industry Insights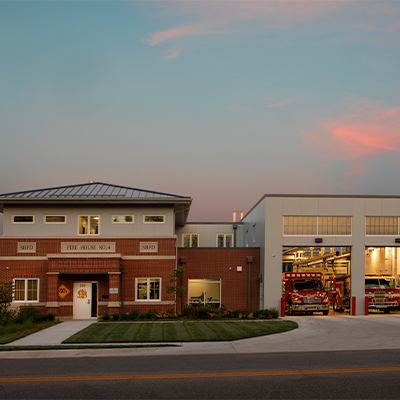 South Bend Fire Station 4
Public Saftey + Justice | South Bend, IN
More Public Saftey + Justice Projects
Creating the foundations that support community growth.