Located on the west end of campus, the University of Iowa's popular Hawkeye Tennis and Recreation Complex was in need of a major expansion. The facility was in constant use by not only the University of Iowa tennis teams, but also by the University of Iowa soccer, softball, and golf teams, as well as the marching band. The University of Iowa recreational services department used the complex as well, managing campus athletic facilities for use by students, intramural groups, and summer camps.
In addition to a lack of space, wear was beginning to show throughout the complex. The outdoor tennis courts, for example, had small holes in the surface, requiring regular repair. It was time for the University of Iowa to invest in an addition to the Hawkeye Tennis and Recreation Complex.
Based on a longstanding partnership, the University of Iowa chose to work with Shive-Hattery to complete this unique project – the first University of Iowa project completed through a design-build project delivery method vs. design-bid-build. The project also called for an aggressive project delivery schedule: Design and contract documents were completed in three months, and the entire project was completed within one year.
Shive-Hattery provided architectural, mechanical, electrical, plumbing, and structural services for the Hawkeye Tennis and Recreation Complex. Civil design services were also included: demolition of existing utilities and surface features, site grading, utility relocations and services, site lighting, storm sewer quality-control facilities, pedestrian and bicycle pathways, roadways, and parking lots.
Paying special attention to the existing complex's design, Shive-Hattery and Russell Construction worked together to create a $12 million, 87,000-square-foot addition that integrates seamlessly with the existing structure. The project also includes an outdoor field for marching band use.
The expansion includes large storage rooms for athletic and marching band equipment, conference rooms, offices, and a large indoor turf room that can be divided with an overhead curtain assembly. The turf room is used for intramural sports and competitive sports practice; the room's acoustics, engineered by Kirkegaard Associates, make the space suitable for marching band practice as well.
Achieving U.S. Green Building Council LEED Silver certification, the Hawkeye Tennis and Recreation Complex addition integrates several sustainable features:
Water-efficient plumbing fixtures that use 55% less water
A closed-loop geothermal well system for cooling/heating with a variable refrigerant flow system
Efficient lighting, including T5 fluorescent lighting indoors and LED lighting outdoors, with an emphasis on light pollution reduction
Programmable touchscreen controls that allow lighting to be managed from two central locations
These updates to the Hawkeye Tennis and Recreation Complex have given the University of Iowa one of the best tennis facilities in the Big Ten Conference. The green-building elements incorporated into the design reduced energy costs, and also led to financial incentives from the local utility.

Today, the Hawkeye Tennis & Recreation Complex houses eight indoor and 12 outdoor tennis courts; 6,000 square feet of fitness space, an indoor turf area, and an outdoor rental center. The new addition provides extra space that was desperately needed by the men's and women's tennis, field hockey, and soccer teams; the marching band; the University of Iowa recreational services department; as well as University of Iowa students and Iowa City community members.

The additional space has also given the University of Iowa room to host major sporting events, such as the Big Ten Men's Tennis Championships.
Stay in Touch for Monthly Shive-Hattery Industry Insights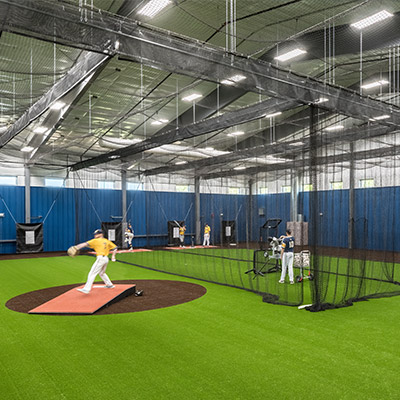 Regina – Access Road, Site Improvements and Indoor Hitting Facility
Pre K-12 | Iowa City, IA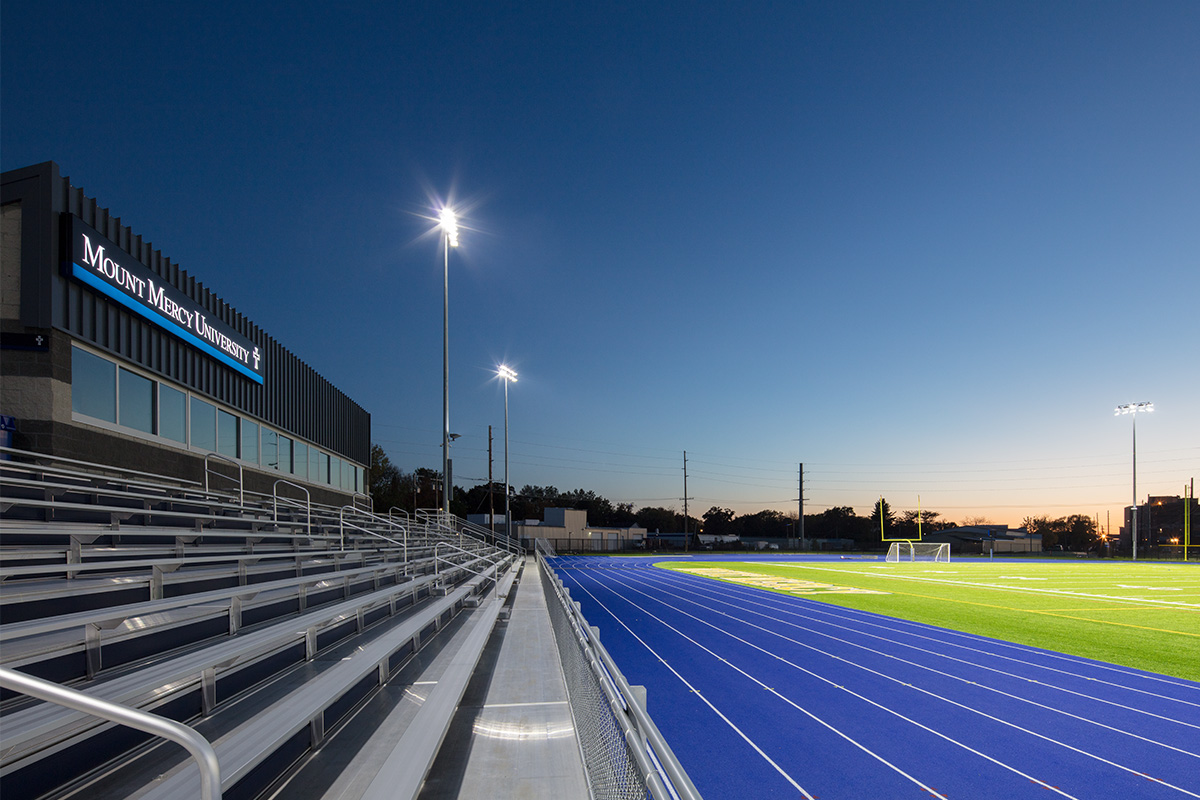 Mount Mercy Robert W. Plaster Athletic Complex
Sports | Cedar Rapids, IA
More Sports Projects
Creating the foundations that support community growth.