Cedar Rapids Schools District Educational Leadership and Support Center | Electrical Engineering Services
Located in Cedar Raoids, IA
The Cedar Rapids Community School District, which serves 16,000 students, was hard hit by historic flooding in Cedar Rapids in June 2008. Five school district support buildings were destroyed during the disaster. The decision was made that when rebuilding, all of the services and departments housed in those five buildings would be co-located into one new facility, the new Educational Leadership and Support (ELS) Center.
The Educational Leadership and Support Center campus houses administration, a professional development center, public meeting spaces, graphics and printing, buildings and grounds (building maintenance, carpenters, and painters), custodial and grounds, purchasing and warehouse and transportation services. It also features a bus wash and fueling station to serve the district's fleet of school buses.
The new ELS Center was built as a 100-year facility, meant to last for decades yet provide flexibility to best serve the growing needs of the district. Several sustainable strategies were incorporated when building as well as several unique safety features—including a dedicated 500-person, high wind event safe room and a security/access control system for doors and locks making this a model facility for education systems and districts around the country.
The $44.5 million project was funded with approximately $12.8 million from FEMA and State Public Assistance funding for flood-related damaged and SILO backed bonds.
Stay in Touch for Monthly Shive-Hattery Industry Insights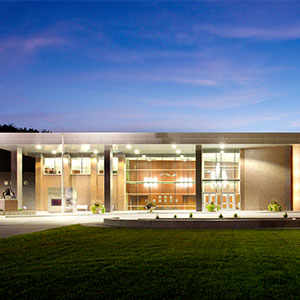 Cedar Rapids Schools District Educational Leadership and Support Center
Cedar Rapids, IA
More Architecture Projects
Creating the foundations that support community growth.