Occupying two floors within a 42-floor building, Climate Corporation's San Francisco office knew it wasn't using their workspace very well.

Sound control was another issue that needed to be addressed. Noise carried throughout the office, making heads-down work and private conversations difficult.

To improve interaction and facilitate conversation, Shive-Hattery consolidated Climate Corporation's workspace onto one floor from two, eliminating private offices and creating additional collaboration areas.

Closed huddle rooms and touchdown areas are now defined by walls to contain sound. Throughout the space, finishes help dampen noise levels, including sound batting for walls, the addition of carpet, and acoustical paneling and ceiling baffles.

Doors designed to match the barn-style doors used in Climate Corporation's Chicago office were added to separate employee workspaces from breakrooms and reception areas, as well to create definition and cut down on noise.

Shive-Hattery also disassembled and reassembled a tractor inside the San Francisco office to match a well-known design feature in the Chicago office. Specific prefabricated wallcoverings were selected to match conference rooms and the well-known scientist or researcher each one is named after. A new reception area with corporate branding creates a defined entry.

Because the office remained occupied during the project, Shive-Hattery worked in six phases to allow employees to move to different locations within the space as construction progressed.

Climate Corporation's San Francisco location now efficiently holds between 150 and 175 people, facilitating collaboration, providing acoustical privacy, and supporting regular meetings and virtual videoconferencing sessions. The space reflects the company's focus on technology and helps it compete with other tech companies.
Stay in Touch for Monthly Shive-Hattery Industry Insights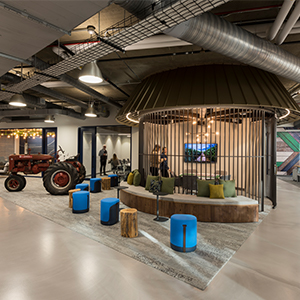 The Climate Corporation – Chicago, IL
Commercial | Chicago, IL
More Commercial Projects
Creating the foundations that support community growth.