Evraz, a steel manufacturer headquartered in Chicago, previously occupied space within an iconic 83-story tower located on the Eastern edge the city's central business district. A desire to use workspace more efficiently, bring employees closer together, and find a centralized location closer to city services and public transportation led Evraz to a 22,000 square-foot space inside the former Hyatt Center 71 South Wacker Drive. Evraz sought assistance from architects Shive-Hattery, project managers Jones Lang LaSalle and MEP engineers ESD to create a workspace that not only offered employees new amenities and better interdepartmental collaboration, but also attracted new talent with an office that felt professional yet approachable.

The unique curve of 71 South Wacker's exterior provided an opportunity to maximize daylight exposure and city views for all employees while maintaining necessary privacy at interior offices.

Moving away from the company's traditional veneer furnishings and tall cubicle panels, Shive-Hattery designed an open, collaborative environment that blends professionalism with approachability. To better facilitate communication between departments, open workspaces feature lower panel heights and a cleaner aesthetic that brings workers closer together.

Breakout and huddle spaces provide employees with ample space to work in partnership. A lunch room featuring custom-made snack drawers, a 25 foot island with seating and graphic wallcovering depicting the company's strongly held values helps further Evraz's culture of enrichment through collaboration.

The company's values urging employees to Create Value, have Ownership of Results, Passion for Improvement, seek Enrichment through Collaboration and Leading with Humility serve as a backdrop to the new office's front entrance and state-of-the-art Board Room along with cold-rolled steel panels and warm, welcoming wood flooring. The company's logo and corporate colors of orange, red and yellow along with steel imagery and artwork are incorporated throughout.

After relocating, EVRAZ has an office that reflects its core values and identity as a steel manufacturer while attracting new talent and retaining existing staff through new amenities, collaborative workspaces, and location. Situated closer to city conveniences and public transportation, the headquarters building is now more accessible and approachable.
Stay in Touch for Monthly Shive-Hattery Industry Insights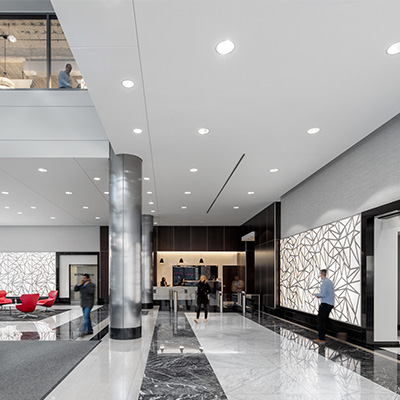 JLL – 550 W. Washington – Main Lobby
Commercial | Chicago, IL
More Commercial Projects
Creating the foundations that support community growth.