As RSM expanded, its downtown Denver office space had been piecemealed together. But the company was ready for a more permanent, cohesive solution. Employees wanted to stay in the existing location within the 40-story 555 17th Street building but expand to occupy two full floors.

During the expansion, RSM also wanted to update its workspace to serve as a selling point during employee recruitment and allow the company to compete against other Class-A office spaces in Denver.

Across the country, RSM works closely with Shive-Hattery to standardize workplace design across its office locations while including local touches. The Denver office wanted to showcase the heart of the city by incorporating local materials and images. Separate collaboration spaces – something unique to RSM – was also important in this particular office.

To help RSM reflect this Denver location, local and rustic materials found in nature – including wood, steel, and rocks – were included in the design.

To facilitate easy back-and-forth communication, Shive-Hattery designed a communicating staircase between the two floors. From the main entrance, guests can see both the reception area and the staircase, which showcases the company's vision wall.

To incorporate private collaboration spaces, informal gathering areas feature soft seating and booths, wireless connectivity, and even "fun zones" as a draw for employees to spend time in the office and take time out of the day to relax.

RSM Denver now has much-needed room for future growth and dedicated space for collaboration. The communicating staircase helps employees feel more connected and encourages communication while fun, modern design and amenities improve employee attraction and retention.
Stay in Touch for Monthly Shive-Hattery Industry Insights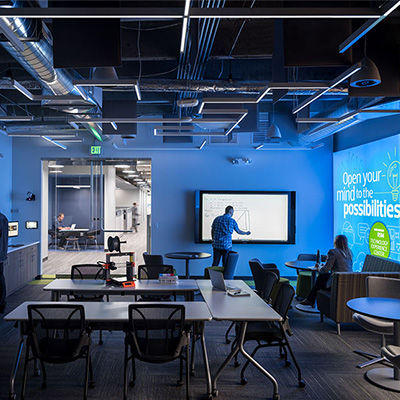 RSM – Denver Tech
Commercial | Denver, CO
More Commercial Projects
Creating the foundations that support community growth.