With rapid increases in infusion volumes, cancer infusion cases in particular, Pella Regional Health Center needed more infusion bays. Growth in services and patients warranted an increase to a twelve-bay-unit, up significantly from the modest four-bay existing space. It was also important to the hospital and providers to co-locate oncology clinic services with infusion, simplify wayfinding to cancer services, and offer the most convenient patient experience for this delicate patient population. The space selected to accommodate this growing service was located on the lower level of the hospital, convenient to an entrance and patient parking for ease of use.
To accommodate the renovation, underutilized portions of the building were demolished. Several clinics were also relocated including Wound Care (and the addition of Hyperbaric Medicine Services), Specialty Clinic Services, Cardiac Rehabilitation and Physical Therapy.
The Infusion Center and Oncology Clinic spaces flank each side of the shared support space. Natural light welcome patients in the shared waiting and reception areas. Private infusion bays are arranged around the perimeter of the space, with a semi-open nursing station that supports direct visual of each patient. Three of the bays have ICU Sliding doors that offer a higher level of acoustical privacy for pediatric patients or patients requiring more isolation. The other nine bays can be open for patients to converse or enjoy the carefully lit artwork around the room or closed with a curtain.
The thoughtfully chosen elements within each bay minimize the clinical feel, provide convenience and ease of use for the patient from a seated position, and support safe and efficient patient care.
Stay in Touch for Monthly Shive-Hattery Industry Insights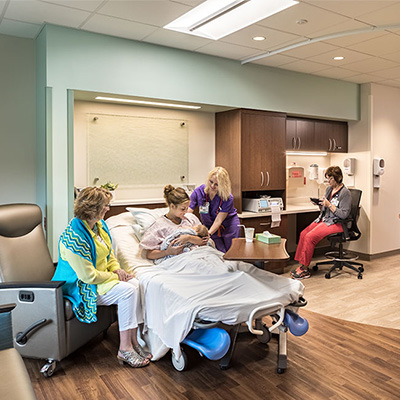 Pella Regional Health Center – OB 3rd Floor Expansion
Healthcare | Pella, IA
More Healthcare Projects
Creating the foundations that support community growth.