After acquiring a technology company, RSM – a provider of audit, tax, and consulting services – wanted to create a new workspace that would attract tech-loving workers as the company competes against larger technology companies in Denver.

To appeal to knowledge workers and technology lovers, Shive-Hattery created a workspace that evokes feelings of fun and creativity.

An onsite innovation lab designed by Shive-Hattery gives RSM a place to show off technologies like artificial intelligence, virtual reality, IoT, and augmented reality and explain what they are and how they work. The space also serves as a venue for hosting weekday and after-hours events, receptions, and workshops.

Across the country, RSM works closely with Shive-Hattery to standardize workplace design across its office locations while also including local touches. It was important to RSM's Denver Tech Center office that the workspace showcase the heart of Denver.

A custom map graphic shows off landmarks and important places while other graphics incorporate mountains and pictures of nature. In addition, a global map lets RSM pinpoint client locations and track where technology services are making a difference across the world.

RSM now has a dedicated office space for its Denver Tech Center team – a space that appeals to technology lovers and knowledge workers. The office's hands-on innovation lab provides a versatile space for clients to learn more about RSM's technology capabilities, as well as a venue for the Denver Tech Center to host networking and community events.
Stay in Touch for Monthly Shive-Hattery Industry Insights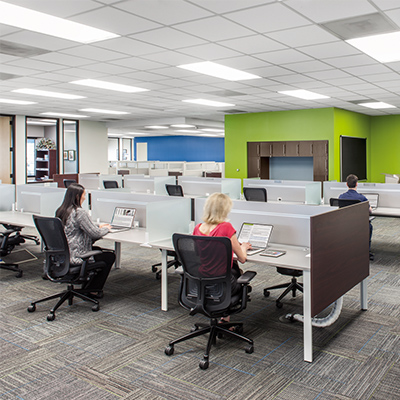 RSM – Irvine – 5th floor Tenant Improvements
Commercial | Irvine, CA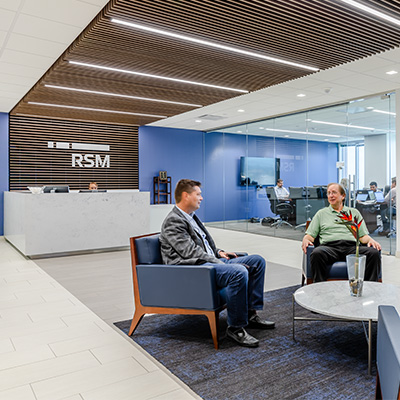 RSM – Dallas, TX
Commercial | Dallas, TX
More Commercial Projects
Creating the foundations that support community growth.