With locations across 30 U.S. states, RSM standardizes workplace design to be effective, efficient and reinforce brand. At the same time RSM wants to reflect the unique regional character of each office location to identify with local team members.

The Irvine, California office needed a renovation to create a more collaborative, community-oriented space that matched the company's corporate culture and workplace-design standards. RSM also wanted to make sure its Irvine location could compete for employees in the highly competitive Southern California market.

Shive-Hattery spent time observing and talking to existing staff about their workplace needs and how they worked best. It was determined that many employees in the Irvine office traveled frequently and weren't regularly in the office, resulting in underutilized workspace. Instead of dedicated workspace for each person, a desk share strategy was developed that would use benching workstations for traveling and visiting staff. This reduced dedicated workspace by half, which also allowed the space to be reallocated for both enclosed and open collaboration and alternate workspace areas.

The number of private offices was reduced, bringing more employees out into open workstations to improve collaboration and mentoring. Remaining private offices were brought away from the window line and given glass walls to help turn the once-cavernous workspace into a lighter, brighter area. Because of this change, the employees located in open workstations now get to experience the benefits of daylight exposure and views that offer a connection to nature and time of day.

The existing breakroom was enlarged to become a town hall, providing a multi-function space that now serves as the communal heart of the office. When needed, the area can comfortably accommodate all Irvine employees for meetings or events.

Shive-Hattery has partnered with RSM to transform office space in cities like Chicago; Des Moines, Iowa; Kansas City; Los Angeles; Madison, Wisconsin; Milwaukee; Peoria, Illinois; Phoenix; Seattle; and South Bend, Indiana.

With each workplace design or renovation, including the Irvine tenant-improvement project, Shive-Hattery helps RSM meet its goal of providing employees with choices about where and how to work, whether it's in a dedicated workspace, a small workroom, or a large gathering area.
Stay in Touch for Monthly Shive-Hattery Industry Insights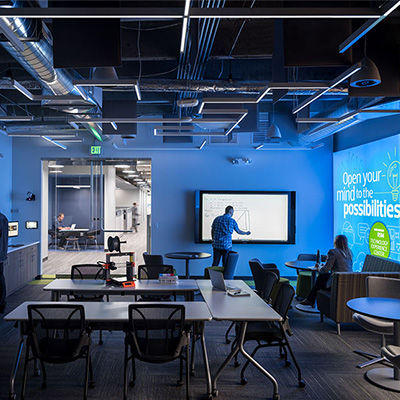 RSM – Denver Tech
Commercial | Denver, CO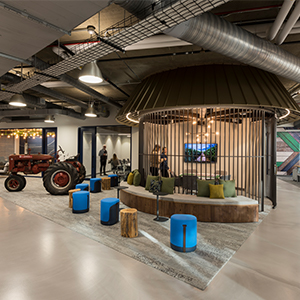 The Climate Corporation – Chicago, IL
Commercial | Chicago, IL
More Commercial Projects
Creating the foundations that support community growth.