The University of Iowa, in response to impacts from its 10-year master plan for the UI Hospitals and Clinics (UIHC), set out to address the critical need for expanded parking on its west campus. The plan necessitates the replacement of an existing parking ramp and poses challenges related to construction impacts. The university sought to create a visually appealing and functional parking facility that complements the West Campus while expediting both the design and construction phases. The estimated construction cost is $40 million, with a target completion date of January 2025.
The UIHC's master plan, aimed at expanding healthcare facilities, includes provisions for additional parking to cater to the growing demands of the intricately woven town and campus community.
Located in the heart of the west campus, the design challenge extends beyond a conventional parking garage. It demands a structure that integrates seamlessly into the campus fabric and provides a visual and physical connection to the adjacent West Campus Transportation Center.
Embracing CMAR Legislation for Campus Advancement
To tackle this challenge, a collaborative team comprising Shive-Hattery, Walker Consultants, and Conlon Construction, acting as Construction Manager, was entrusted with the task of creating a 1,000-vehicle parking solution. Notably, this project is the first on campus to adhere to new Iowa legislation, employing the Construction Manager at Risk (CMAR) delivery method.
Integrated Solutions and Distinctive Design Features
The solution devised is a long-span cast-in-place post-tensioned ramp, emphasizing durability, economy, functionality, efficiency, transparency, and elevated architectural design. The design incorporates brick circulation towers reminiscent of nearby Kinnick Stadium, and the north and south facades feature an illuminated Tigerhawk logo. To enhance transparency and safety, thin floor slab edges and semi-transparent cladding of woven wire fabric were integrated. Wayfinding elements, including a semi-transparent Kinetic Façade that moves with the wind, contribute to entrance identification and visual interest.
Enhancing Safety, Connectivity, and Kinnick Stadium Views
The Hawkeye Ramp, a prominent structure visible from adjacent streets, UIHC visitors and attendees of Iowa athletic events, not only provides essential parking capacity but also upholds architectural excellence. With five levels, including a partially below-grade level, it maintains visual priority for Kinnick Stadium, encourages pedestrian connectivity and ensures safety with glass-front and glass-back elevators. Other features include secure bicycle storage, snow removal provisions, storm water management, and electric vehicle charging stations.
The Hawkeye Ramp will stand as a testament to innovative design, functionality and aesthetic appeal — meeting the evolving needs of the University of Iowa's west campus while preserving the architectural integrity of the surrounding area.
Stay in Touch for Monthly Shive-Hattery Industry Insights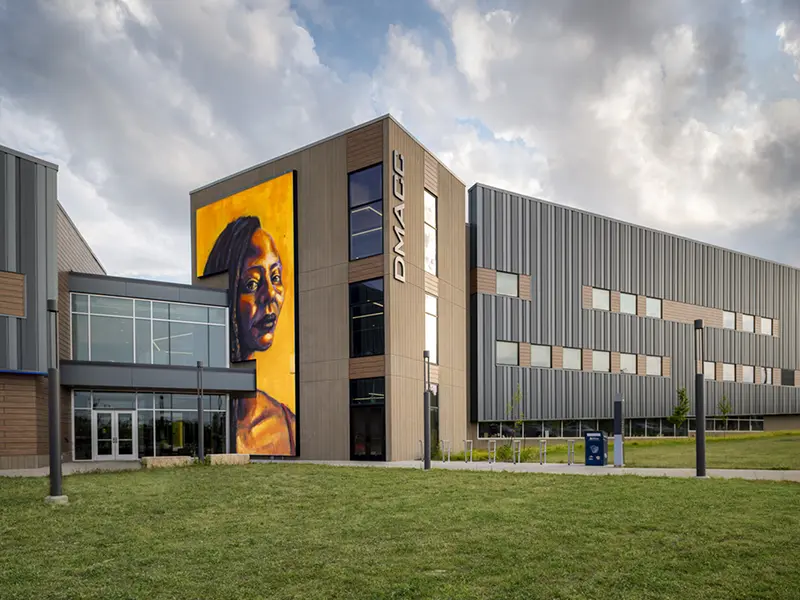 DMACC Urban Campus Student Center
Higher Education | Des Moines, IA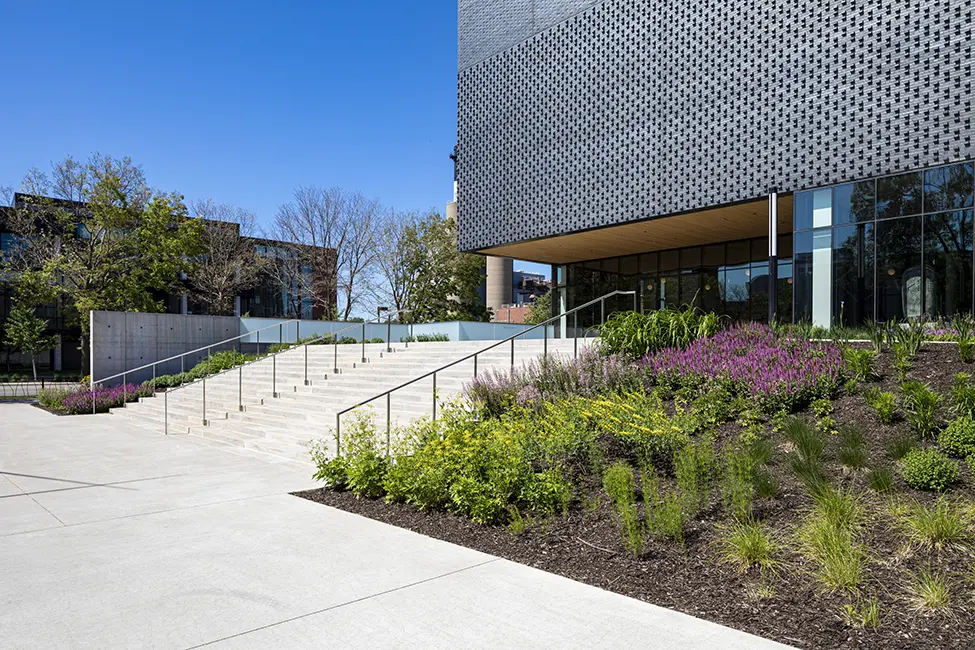 University of Iowa Museum of Art
Higher Education | Iowa City, IA
More Higher Education Projects
Creating the foundations that support community growth.